Look no further than Empire Contractors if you're a property owner or manager in Mackinaw City, MI, seeking dependable roofing solutions! With regard to all of your roofing requirements, including the outstanding single-ply roofing services we provide, we are your reliable partner. Call us at 231-861-7221 right away to discuss how our experience can help you protect your investment.
Understanding Single-Ply Roofing
Due to its adaptability, affordability, and durability, single-ply roofing is a preferred option for commercial and industrial buildings. It is a kind of roofing material composed of a single layer of thermoplastic or synthetic polymer membrane. Single-ply roofing is exceptional due to the following reasons:
1. Lightweight: Single-ply membranes are lightweight, which puts less strain on the construction of your building.
2. Energy Efficiency: Reflective single-ply roofing helps save energy expenses by reflecting heat and sunlight.
3. Robustness: Single-ply roofing materials are known to be resistant to UV radiation, chemicals, and punctures.
4. Simple Installation: Compared to other roofing systems, installation is often quicker and less labor-intensive, minimizing disturbances to your business.
Single-Ply Roofing Benefits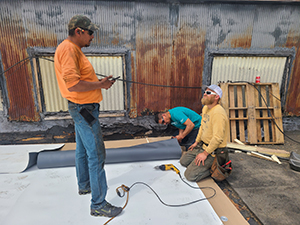 Making a smart investment in single-ply roofing with Empire Contractors has many benefits, including:
Energy savings: Single-ply reflective roofing can reduce heat absorption, resulting in cheaper cooling expenditures during the hot summers in Michigan.
Durability: Single-ply roofing materials are built to last, offering a reliable and long-lasting roofing solution.
Low Maintenance: Over time, single-ply roofing systems will save you time and money since they require little maintenance.
Eco-Friendly: Single-ply roofing materials are frequently recyclable, minimizing their adverse environmental effects.
Our Single-Ply Roofing Services
At Empire Contractors, we offer a comprehensive range of single-ply roofing services to meet your specific needs:
TPO Roofing (Thermoplastic Polyolefin): TPO roofing is known for its energy efficiency and durability. We provide expert TPO roofing installation, repairs, and maintenance.
PVC Roofing (Polyvinyl Chloride): PVC roofing offers excellent resistance to chemicals and fire. Our team specializes in PVC roofing solutions.
EPDM Roofing (Ethylene Propylene Diene Monomer): EPDM roofing is known for its exceptional weather resistance. We provide EPDM roofing installation and repairs.
Single-Ply Roof Maintenance: Regular maintenance is crucial for the longevity of your single-ply roof. Our customized maintenance plans ensure it stays in optimal condition.
Call us now!
A key component of your house's security and energy efficiency is your roofing system. If you require single-ply roofing services in Mackinaw City, Michigan, you can rely on Empire Contractors to deliver professional assistance and outstanding outcomes.
Call 231-861-7221 right away to set up your single-ply roofing consultation. You invest in more than simply a roof when working with Empire Contractors; you invest in the long-term productivity and prosperity of your building.