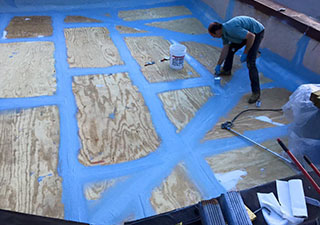 If you've been looking for a solution to put off a total roof replacement for your commercial or industrial roof, consider a roof coating! In Whitehall, Michigan, and the surrounding areas, the winters can be brutally cold, while the summer heat can be exhausting. This can put a lot of strain on your roof. After many years, it can cause the roof to begin to show signs of wear and tear and to hold off roof replacement, we highly recommend a roof coating.
If you're interested in learning more about how a roof coating can help your Whitehall, MI property, call Empire Contractors at 231-861-7221.
More about Roof Coatings
A roof coating is an affordable and durable roof system that is applied directly over your current commercial or industrial roof. It's a great solution for all roofing substrates including metal, TPO, PVC, modified bitumen, EPDM, built-up, and more! Although they have been in the roofing industry since the 70s, they've recently taken off as the go-to roofing solution.
Roof coatings boast the following benefits: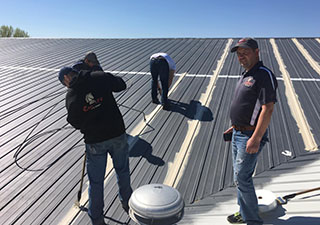 Seamless Membrane – This fully adhered membrane is traditionally sprayed (or rolled) onto the surface of your current roof.
Reflective – The coatings are white and reflect up to 85% of the sun's UV rays.
Cost Savings – The reflectivity can save you up to 30% in energy costs, but that's not all! Roof coatings are much cheaper than traditional roof replacements and save you from having to pay expensive labor and landfill fees.
Durable – our coatings not only bend and stretch with temperature fluctuations, but they also are durable and resilient against hail, winds, fire, and more.
Quiet – Unlike full roof replacement, the process to coat your roof is quite quiet and will not disrupt your business operation.
The Best Restoration Company Around
At Empire Contractors, we pride ourselves on being the best roof restoration company that serves clients in and around Whitehall, Michigan. But don't just take our word for it. We'd be happy to provide you with glowing references from our previous roof coating clients.
To get started, give our office a call at 231-861-7221. We'd be honored to provide a professional roof coating for your commercial or industrial property.