It takes a long time for a commercial roofing contractor to have a service record that is long enough for people to realize that they are a reliable option. Over the past 20 years, Empire Contractors has been building a phenomenal reputation through several completed roofing projects. We offer a variety of quality roofing services to those in North Muskegon, MI. Have your roof inspected as soon as this week by calling us today at (231) 861-7221.
Safety First
Roofing is a dangerous gig when safety regulations are not followed properly. Unfortunately, many roofing contractors out there do not work in a safe manner. This can lead to serious accidents and puts many in harm's way. Here at Empire Contractors, we work hard to ensure that everyone remains safe when we are on the job.
Customized Roofing Services
Our team always strives to find the best way to go about fixing up each roof. Part of the reason why we have been so successful as a company is because of our ability to customize roofing solutions. This makes for longer-lasting roofs and more cost-effective services.
Roof Restoration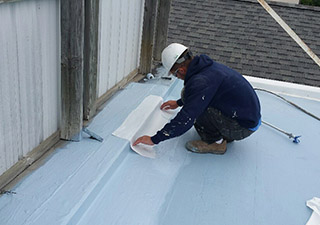 The experienced roofing specialists at Empire Contractors always recognize when a roof has the potential to be restored. This is important because many people opt to have their roof replaced prematurely which is a massive waste of money and materials. With roof coatings, we are able to fully restore the condition of many types of commercial roofs. This prolongs the need for a replacement and has the added benefit of making a commercial building more energy-efficient.
Other Services
There is really nothing that we don't know how to do when it comes to commercial roofing. Whether your roof needs a small repair or a complete replacement, we're the top crew around for the job. With Empire Contractors, you'll spend far less time and money on your commercial roof.
Call Us Today!
Those in North Muskegon, MI can always count on flawless roof work from the experts at Empire Contractors. We're the solution for anyone in this area in need of a reliable commercial roofing contractor. We would be happy to give you a free project quote — just give us a call at (231) 861-7221.