Without doing a bit of a research beforehand, there is no telling the kind of trouble that you can get into when you hire random commercial roofing companies to work on your building. Rather than risking it with an unproven company, go with Empire Contractors. We are prepared to take on new jobs in North Muskegon, MI. Get a quote on your roof today by giving our team a call at (231) 861-7221.
Our Services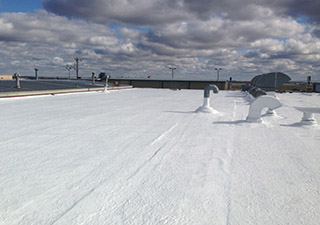 Over the years, the team at Empire Contractors has shown the ability to succeed in all sorts of commercial roofing projects. If you have a roof that needs repairing or maintaining, we'll make sure to get it back to its waterproof ways. However, if you need a new roof altogether, our team has been known to flawlessly install all sorts of commercial roof systems.
One of our main roofing services is roof restoration. We use roof coatings to protect the surface of commercial roofs. This thin waterproof membrane can extend the lifespan of a roof by a decade or more. Another thing worth noting is that a roof coating can chop down on energy costs significantly due to its reflectivity.
Competitive Prices

Here at Empire Contractors, we won't hesitate to give you a no-obligation estimate on your roof. We know that our prices compare well with other roofing companies in the area. More importantly, our team is made up of calculated roofing specialists who are determined to get each job done right.
A Proven Company
There aren't too many roofing companies around that have been in the industry since the 1990's. Empire Contractors is one of few that have withstood the test of time and held true to providing complete customer satisfaction year after year. We hold an exceptional reputation among homeowners and businesses across the Midwest.
Call Us Today!
Empire Contractors sticks out from other commercial roofing companies with a superb mixture of first-class roofing services and competitive prices. We help clients in North Muskegon, MI get more years out of their commercial roofs. To get started, call Empire Contractors today at (231) 861-7221.