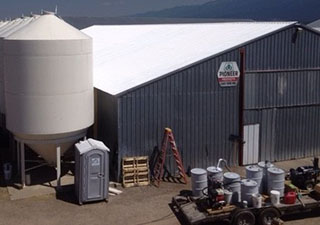 When was the last time a commercial roofing contractor had a look at your commercial roof? If a roof is neglected, you may miss windows of opportunities to get more years out of your roof and save big. Empire Contractors can keep up with roof inspections and find the right time to apply a roof coating. We provide first class roof restoration services to clients in Rockford, MI. For a quote on a roof coating, give our seasoned roofing experts a call today at (231)-861-7221.
About Roof Coatings
If you are familiar with roof restoration, you know that it is often used as an alternative to a roof replacement. Empire Contractors prefers using lightweight roof coatings to easily and affordably improve the condition of existing roofs. This means getting a lot more valuable time out of a roof before needing to pay out for an expensive and potentially disruptive full roof replacement.
Lower Energy Costs

The right roofing company will save you in more ways than one! With Empire Contractors, people receive exceptional services at great prices. Plus, they will benefit from our energy-efficient roof systems for years to come. Roof coatings have been responsible for lowering A/C costs by 30%! Since a roof coating is a reflective membrane, your commercial building will be kept at a more manageable temperature when the hot sun is beating down.
Versatile Roofing Specialists
The roofing technicians at Empire Contractors have a massive amount of commercial roofing experience. At this point, there is very little that could surprise us on a roof. We work with metal roofs, single-ply roofing, and more! Our team of formally-trained technicians adhere to all of industry's safety regulations. We have an excellent safety record and a reputation for being easy to work with, punctual, and professional!
Call Us Today!
Zeroing in on a reliable roofing company is a great way to spare yourself from wasting time and money on your commercial roof. Empire Contractors is a full-service roofing company that will continue to deliver flawless project results to the people of Rockford, MI. To get a quote on a roof coating from our roof restoration experts, call us today at (231)-861-7221.