Empire Contractors puts commercial roofs in North Muskegon, MI in good hands. A commercial roof could require several different types of commercial roofing services over the years. Our experienced roofers are poised to effectively repair, restore, or replace any sort of commercial roof. Speak with us today at (231) 861-7221 to have your roof inspected for free.
Commercial Roofing Services Offered
As a full-service commercial roofing contractors, Empire Contractors proudly offer a full array of high-quality, long-lasting commercial roofing services. With a focus on getting everything possible from your roofing system, we work diligently to maximize your ROI.
Roof Leak Detection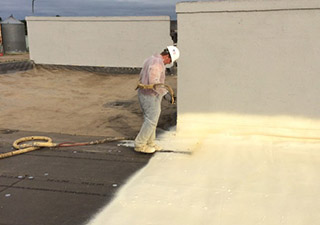 Quality roof leak detection is the only way that a leaking roof will get the type of work it needs. With a substandard company, you could end up paying for services that don't even necessarily address the problem(s). With Empire Contractors, however, your roof will receive affordable and efficient roofing solutions thanks to our thorough roof inspections.
Roof Repairs & Maintenance
There are quite a few kinds of commercial roofs out there. The craftsmen at Empire Contractors have a lot of experience repairing and maintaining a myriad of commercial roofs. Whether your commercial building is protected by a metal roof, single-ply roofing, etc., our guys will have it performing like new again.
Roof Coatings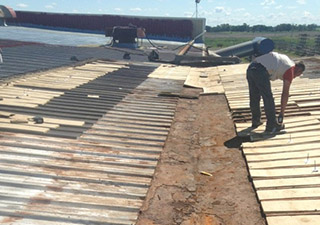 In this day and age, we feel that energy-efficiency solutions are more important than ever. We also know that restoring a roof whenever possible is generally an investment that thoroughly pays off. Empire Contractors is made up of roof restoration experts. Our reflective roof coatings protect a roof seamlessly and make a roof more reflective. This helps keep a building cooler which lowers the amount one has to spend on A/C.
Roof Replacements
Getting a new roof is made simple when you go with Empire Contractors. Our team provides excellent craftsmanship and reliable customer service. For the last couple of decades, we've been proving our ability to install long-lasting commercial roofs. Plus, you'll notice that our prices match up well against other roofing companies in the area.
Call Us Today!
Empire Contractors offer free roof inspections to clients in North Muskegon, MI. Reach to us at (231) 861-7221 to set up a day for our guys to swing by and have a look at your roof. We'll then know what kind of commercial roofing services will help your roof out, whether that be a roof repair, roof coating, or something else.