Commercial and industrial roofs cover a wide range of businesses and roofing materials. Here at Empire Contractors we only use the highest quality of materials.  We pair this with our years of experience and hands on training to ensure building owners and facility managers that they are in the right hands.
Empire Contractors has got you covered for anything that may happen to your commercial roof. From repairs and replacements, to quality roof coatings, we do it all.  Call our office at (231) 578-4760 to learn more about our commercial roofing services. We will work diligently to find the best long-lasting roofing solutions tailored to fit your budget and project timeline.
Commercial Roof Repair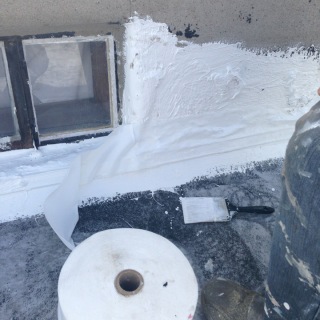 Commercial roofs are designed to last for years. Over time, no matter how well maintained they are, they will encounter issues. When ignored, small defects can grow into costly troubles down the road and in extreme cases can lead to premature roof failure. Here at Empire Contractors, we have repair solutions in place to prevent this from happening.
We offer roof inspections and a routine maintenance program to ensure your asset has not suffered any damages or is facing leaks or other issues that will disturb its performance. Don't settle for recurring repair costs and never-ending headaches. You can call on Empire Contractors at (231) 578-4760 to provide customized and professional repair estimates that work within your budget.
Commercial Roof Replacement
Mother nature, advanced age, or high amounts of foot traffic are just a few things that can cause extensive damage to your commercial roofing system. There's good news for those in Michigan though! There is no need to worry when Empire Contractors is on your side. With our experience, dedication to quality service and efficient roof replacement methods we've got you covered.

A few of the commercial roofing systems we work with include, but are not limited to, the following:
TPO
PVC
Metal
Modified Bitumen
Built-up
And all others!
Regardless of your current roofing system, we will find the most effective roof for your specific building that will give you the years of protection you are looking for. To learn more about our commercial roof replacement procedures, contact us today at (231) 578-4760. We've been replacing roofing systems all over Michigan for over 20 years and we would be happy to add you to that list!
Roof Restoration
In some cases, a roof can be treated with a roof coating instead of a total replacement. This saves you time and money while providing a worry-free roofing system. The list of benefits that go along with a roof coatings are extensive. A few reasons building owners choose to restore their roofing assets rather than replace them are:
Simple, low-maintenance requirements
Lower labor costs
No landfill and disposal costs
No disruptive tear-off procedures
No interference with business operations
Lower energy costs
To learn more about how your roof can benefit from our roof restoration services don't hesitate to contact Empire Contractors. You can reach us at (231) 578-4760.  One of our associates will gladly discuss the many additional benefits of roof restoration and how it can save you time and money!
Commercial Roofing Contractor
When you rely on Empire Contractors you are putting your commercial or industrial roof in the most capable hands in Michigan. We take the time to properly evaluate your roofing system to determine the services that suit your budget and provide the long-term solutions you are looking for.  You can reach us at (231) 578-4760. Let us show you why Empire Contractors has been leading the commercial roofing industry since 1998.