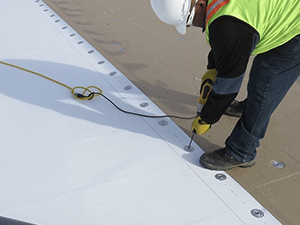 If you are in the market for a commercial roofing company that can provide a flat roof replacement in Portage, MI, Empire Contractors is the top choice. Our roofing services are of first-rate quality and we will make sure that your building gets the very best. For help from our skilled craftsmen, give us a call today at (231) 861-7221.
When Should I Replace?
It can be challenging to pinpoint when replacing a flat roof is worth the investment. Replacing a flat roof too soon is not cost-effective, but waiting too long can lead to costlier problems. The team at Empire Contractors is excellent at knowing when a flat roof is ready to be replaced. Just hire us for regular inspections and we will give our expert roofing advice.
Flat Roof Coatings

Restoring a flat roof is something that the crew at Empire Contractors has a lot of experience with. By restoring a flat roof with a roof coating, you can squeeze a lot more time out of a flat roof before it needs to be replaced. Roof coatings have several other benefits, including fewer roof leaks and lower utility costs!
Replacement Experts
A flat roof replacement is no small task. If it would appear as though replacing your flat roof is the best option for your building, you can depend on the seasoned craftsmen at Empire Contractors for the project. Our flat roof replacement experts will make sure that your building's new flat roof is put on the right way so that it will stay in excellent condition for decades!
Maintaining a New Roof
After your building's new flat roof has been installed, measures should be taken to keep it maintained. This will allow you to get the most out of your investment in a new roof. For follow up inspections, maintenance, and repairs, you can continue to depend on the skilled roofing technicians at Empire Contractors!
Call Us Today!
When your flat roof needs replacing, it's best to go with the proven team at Empire Contractors. Our experts will have your flat roof replacement project completed correctly. If you are in Portage, MI, get in touch with us today at (231) 861-7221 to learn more about our roofing services!