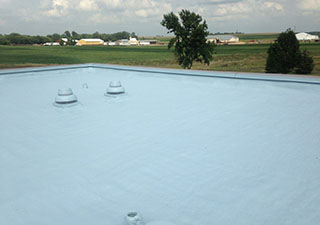 At Empire Contractors, we understand that the performance of your roof is only as good as the materials you use to protect it. That is why we offer premium roof coating options from three of the nation's most dependable manufacturers – Mule-Hide, Firestone, and Conklin. If your commercial or industrial building could use an added measure of protection, call us today at (231) 861-7221.
Empire Contractors has been providing the standard in commercial roofing solutions for more than 20 years. We would love to talk to you about how our superior roof coatings can add years to your roof's life, stop leaks in their tracks, and improve energy efficiency. Read on for more details.
Peak Performance With Conklin Roof Coatings

Empire Contractors carries high-performance roof coatings as one solution to repair and restore your old, aging commercial roof. Roof coatings are an excellent alternative to roof replacement – they allow you to upgrade your roof's performance without the time and expense of tearing off and rebuilding your roof.
Roof coatings from Conklin Roofing Systems offer many advantages: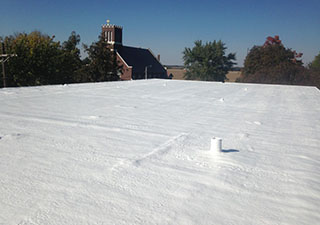 Proven track record – Conklin roof coatings have been in use since 1977, and the company continues to innovate and formulate new products. Satisfied customers include Ford, Holiday Inn, Burger King, Ashley Furniture, and others.
Groundbreaking products – Conklin manufactured the first liquid elastomeric roof coating ever, their Rapid Roof coating.
Widespread use – Conklin products have been applied to more than 2 billion square feet of roofs across the U.S.
Long lasting – Conklin products have been known to last decades.
Durable – Strong and waterproof, reflect up to 85% of the sun's rays
ENERGY STAR rated
Efficient – Utility savings of 30%
Guaranteed – Up-to-18-year, full-coverage non-prorated warranties

Increased Protection With Mule-Hide Roof Coatings

Empire Contractors also offers roof coatings from Mule-Hide, a company that has been providing premium roofing solutions since 1906. Mule-Hide provides 4 categories of coatings:
1) Acrylic roof coatings – Exceptional durability and UV stability extends roof life. Attractive bright white reduces energy consumption.
2) Silicone roof coatings – Can be applied over new spray applied polyurethane foam, EPDM, TPO, aged PVC, aged acrylic coatings, concrete, asphalt built-up roofs, granulated modified bitumen roofs, and metal roofs. Creates a barrier that is durable, resistant to weathering, breathable, watertight, and weatherproof.
3) SEBS roof coatings – Intended for the repair and restoration of asphalt, modified bitumen, metal, Kynar, TPO, Hypalon (CSPE), PIB, and EPDM roofs. Extremely fast drying. Skins over in minutes and cures completely in a few hours. Will not wash off or pick up debris. Available in 8 colors.
4) Aluminum roof coatings – Provides premium, high-performance protection for asphalt-based roofs. Special reinforcing fibers "push" the aluminum flakes to the surface for long lasting reflectivity and greater durability.

Extended Life With Firestone Roof Coatings

Finally, Empire Contractors also carries roof coatings from Firestone. Firestone Building Products has 3 coating programs that cover many roofing systems, offering a variety of benefits, including an extended roof life and substantial energy savings:
1) AcryliTop Coating
Firestone's AcryliTop Coating can be used to protect EPDM and modified bitumen roof systems. Benefits include:
ENERGY STAR certified
Reflects 68% of the sun's energy
Eligible for up to a 10-year limited labor and material warranty
2) Firestone Fluid Applied Metal Roof Coatings
Seals metal roofs
Can be installed directly over light rust
Fibers + asphalt creates a heavy coating that lasts a long time
ENERGY STAR certified
Reduces rooftop temps by up to 100 degrees F
Easy to install
Highly reflective
Call Empire Contractors Today!

If your commercial building's roof needs an upgrade, call the roof coatings experts at Empire Contractors first, before you commit to replacing your roof. Up to 80% of all commercial roofs are prematurely replaced – don't make the mistake of replacing when you can restore your roof with a premium coating from Empire. Call today at (231) 861-7221.