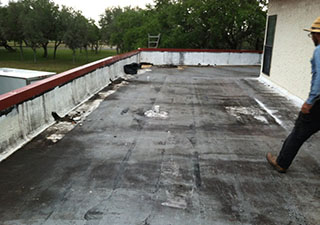 A flat roof replacement is a huge task. The team at Empire Contractors is ready to help you and knows that this is a large investment for your building. We have replaced all types of flat roofs in the Ludington, MI area and have a great reputation for doing so. Call our team at (231) 861 – 7221 today to get a technician out for an estimate today.
With such a large investment, you shouldn't have to worry about who is working on your roof. With Empire Contractors, you won't have to. Our team is the leading commercial roofing team in the area because of their industry knowledge and years of experience. We are knowledgeable and dependable and will make sure you know all of the options available for your building and budget.
Roofing Options
We have over 20 years of experience in the Ludington, MI area and our team has replaced all types of flat roofs. A few types of flat roofs we work on are:
TPO
PVC
EPDM
Modified Bitumen
Built-up
And more!
Whether your roof is currently one of these materials or you have been thinking about replacing your roof with a new material, we can help you make the best decision. All of these options have their benefits and we will make sure you know what all of them are.
Don't Stress
Replacing a roof can be stressful, but with Empire Contractors, we take the stress away for you. We will make sure the process is as simple as possible. Our reliable technicians work quickly and efficiently to ensure your roof will be installed accurately to guarantee it will last as long as it should.
After replacing your roof, we recommend regular inspections and maintenance so that you can give your roof the longest life possible. With routine inspections, you can feel good knowing any issue that arises will be caught early allowing us to fix it quicker and cheaper. With all of the storms we deal with in Michigan, you can be sure that if we are inspecting your roof, no leak or issue will slip by us.
Call Today
Don't let a flat roof replacement get you worked up. In the Ludington, MI area, Empire Contractors is here for you and will take the weight off your shoulders. Give us a call at (231) 861 – 7221 and our experts will guide you and answer all your queries!