Sometimes you have to find out the hard way that your roof is in need of a flat roof replacement. If your roof is too far gone to be repaired or restored, Empire Contractors provides clients in Grand Haven, MI with high-quality flat roof replacements. You can get a free estimate on your roof by calling us at (231) 578-4760.
Flat Roof Replacement

There are numerous things that can turn out badly when you aren't cautious about who you hire to handle your flat roof replacement. For mistake-free installation, the people around here trust Empire Contractors. We offer roof replacements at great prices. Our team of licensed and insured craftsmen pay close attention to the important details that go into commercial roofing.
As a group that has been together since the 1990's, we have a ton of valuable experience under our belts. Our crew has provided great results for many different types of commercial roofing projects. We'll evaluate your roof for free and discuss the best plan of action to take for your specific roof, timeframe, and preferences.
Roof Restoration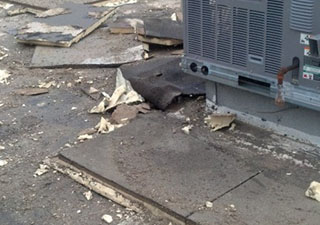 If most of your flat roof is still in decent condition, you might want to pump the brakes on a flat roof replacement. Here at Empire Contractors, we have proven that we have the ability to effectively restore all types of commercial roofs. We'll evaluate your roof for free and tell you what we think the best choice is.
Assuming your roof could be effectively restored, you'll save a significant amount of time and money. As an added bonus, one of our roof coatings will even lower your energy costs. Of course, we're not going to shy away if we think you are better off having your roof replaced. It really depends on the condition of your flat roof as well as some other key factors. The first step is reaching out to us so we can come by and take a proper look.
Call Us Today!
When it's flat roof replacement time, the people of Grand Haven, MI choose Empire Contractors. Our superb craftsmanship and customer service will not disappoint! You can reach us at (231) 578-4760 when you're ready to get started.