While a flat roof replacement is definitely a job to be taken seriously, it's also one you won't have to stress about when you call on the professionals at Empire Contractors. We have been providing the highest quality commercial roofing services to business owners and property managers in Fruitport, MI for more than two decades and we know you won't be disappointed in the customer service and workmanship you and your roof receive when you choose to work with us. When you call on us for a roof replacement, we will thoroughly inspect your roof to make sure it truly is time for a replacement. We know premature roof replacements are all too common and we will help you avoid being part of that statistic! Our extensive list of commercial roofing solutions will help to keep your roof performing like new so that you can be certain you are getting the most from your roof! Often times, we find our customers can restore the life of their roof with a cost-effective roof restoration and this is ideal for everyone! If you have any concerns about the state of your roof, give us a call today at (231) 861 – 7221.
Honest Answers, Every Time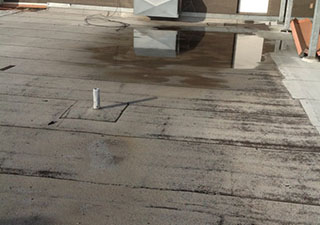 At Empire Contractors, we strive to help our customers get long, successful lives from their roofs. While we will always work with you to keep your existing roof around as long as possible, we will also never recommend having you invest in a failing roof. If we believe your roof could benefit from a roof coating and allow you to get a few more years out of it, we will make sure you know your options! If we believe it is indeed time for a new roof, we will make sure you are well informed of all your options so that you can get the roof best fit for you, your building, and your budget! Call today for honest answers about your roof, we're here to help you save money!
Reach Out Today
Don't let the need for a flat roof replacement overwhelm you. Call the team with the expertise to make things as simple as possible! At Empire Contractors, we've been providing flawless roof replacements, installations, and more to business owners and property managers in Fruitport, MI for more than twenty years and we look forward to working with you! Reach out today at (231) 861 – 7221.