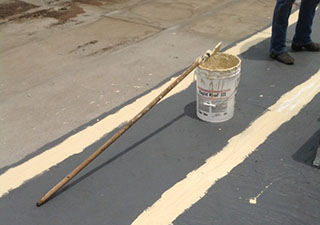 When you have a roof in need of a flat roof repair, or a repair of any kind, you can count on the professionals at Empire Contractors for high quality service in Fruitport, MI and the surrounding areas. Flat roofing systems are incredibly durable and when installed, maintained, and repaired regularly, they could keep your building protected properly for decades. We are happy to provide our customers with a complete list of solutions that help to keep their roofs in pristine condition throughout their lives and this helps to keep you worry free about the condition of your roof! We've been repairing roofs for more than two decades and our team of knowledgeable roofers bring the expertise and resources needed to ensure your roof is set up for success! We service all types of commercial roofing systems so if you have any concerns about your roof, give us a call today at (231) 861 – 7221 and we'll make sure you have a reliable roof atop your building once again!
Quality in Every Way

When you choose to work with the team at Empire Contractors, you can be certain that our team has done the research, and we continue to do so in order to be confident in the products and services we provide our customers and their roofs. High quality products are crucial to ensure any repairs or services completed on your roof will be able to last and we believe that providing only long-lasting repairs is the only way to do business. We are proud to offer unmatched workmanship and know that when we finish servicing your roof, it will be fit to last. Don't let inferior products or workmanship shorten the life of your roof, call our team of experts today!
Reach Out Today!
Work with the professionals at Empire Contractors for all your commercial roofing needs, from a simple flat roof repair to a full replacement, we will handle all your commercial roofing needs with ease and make sure you can trust in your roof once again. We are proud to offer superior services throughout Fruitport, MI and we look forward to working with you. Reach out today at (231) 861 – 7221.