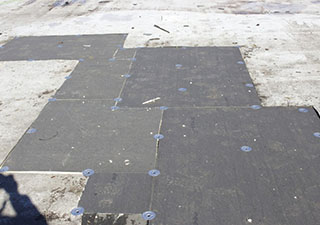 Do you have a single-ply roofing system that needs a little TLC in the Fruitport, MI area? Don't fret! Turn to the professionals at Empire Contractors to ensure your commercial roof can get the specialized care it needs to last! We know it's important to get each roofing system the specific care it requires so that it can continue to get the job done right and our roofers are professionally trained in all types of roofing systems, including the different kinds of single-ply roofs. Single-ply roofing systems are incredibly durable, and they do well in our climate, but without the proper care, they will be destined for a short life. If you're ready to get a long, successful life from your roof, call our team today at (231) 861 – 7221. We're here to keep your roof protected, so that you can know you're always protected too. Now offering no-contact appointments and virtual experiences to keep you safe! Learn more today!
What Kind?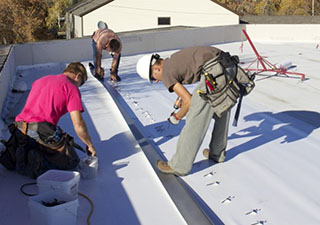 Are you looking to have a new single-ply roofing system installed on your commercial or industrial building? We know it can be slightly overwhelming when it comes time to choose a new roof, there are a few options and while they are all great ones, it can be tough to know if you are getting the roof best suited for you. Part of our job is helping to ensure you get the best roof possible, this will help it to have a long life. If you're looking for a more chemical resistant option to keep your restaurant protected, then a PVC roof is the answer. Looking for the most cost-effective solution that still offers dependable protection? A rubber roof could be your go-to! Whatever type of roof you need, we've got you covered, and we look forward to helping you stay protected.
Call Today
When it comes to single-ply roofing specialists in Fruitport, MI or the surrounding cities, Empire Contractors is the team to call. Our knowledgeable roofers will make sure your roof gets what it needs, as a full-service commercial roofing company, that's our job! We know all roofs are different and that is why we are always training and learning to make sure we're bringing you the best. Reach out today for service at (231) 861 – 7221.