If you are a business owner or property manager in Kentwood, MI, you likely know how important your roof is to your building's efficiency and general performance. Are you in the market for new commercial roofing systems and searching for which system is the best fit for you and your commercial roof?  If so, you will start to see just how many types of commercial roofing systems are out there. At Empire Contractors, our team specializes in various high quality single-ply roofing systems.
Our single-ply roofing membranes are intended to give your commercial building enhanced defense against water, ultraviolet lights, and harsh weather. The experts at Empire Contractors have been factory certified and trained to repair, restore, and install any kind of single-ply system. This includes PVC, TPO, and rubber; ballasted, fully adhered, or air welded. When you need single-ply roofing help don't call just anyone, call the professionals at Empire Contractors at (231)-861-7221.
TPO Single-ply Roofing
TPO roofing is a single-ply membranes that are made from thermoplastic polyolefin. Some advantages from TPO are: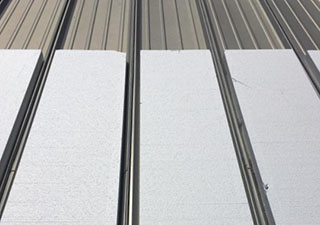 Waterproof
Capability to reduce heating and cooling bills
More cost-effective
Eco-friendly
Comes in carious colors- tan, gray, white
Comes in three sizes- 6', 10', 12'
Resistant to UV lights and heat
Installed with hot air welded seams
Has the ability to be installed on variety of roofing materials
PVC Single-ply Roofing
PVC roofing membranes are another amazing single-ply roofing choice for low-sloping or flat commercial roofs. Polyvinyl chloride is a thermoplastic commercial roofing material. This means they can get softer by applying heat and hardening up by applying cold air. PVC roofing is strengthened with polyester and fiberglass to enhance its resiliency. This makes PVC one of the strongest commercial roofing systems on the market. Benefits of PVC are:

Natural resistance to fire
Extremely durable during harsh weather
Will lower heating and cooling bills
Resistant to high winds
Easy to install, this help in lowering labor costs
Lasts for 20+ years
Strong, heat welded seams
Resistant to chemicals like grease, fat, and oil
Rubber Single-Ply Roofing
Rubber roofing is one of the most commonly installed type of single-ply. Our rubber roofs will stand the test of time because of our high-quality rubber roofing membranes. Some benefits of rubber roofing include:
Highly waterproof
Easy to install
Sealed with tape
Durable with a lifetime of up to 20+ years
Energy efficient
Flexible
Reflective coatings will reflect close to 85% of the suns UV rays
Contact Us Today
If you would like single-ply roofing from the experts at Empire Contractors, call us at (231)-861-7221.