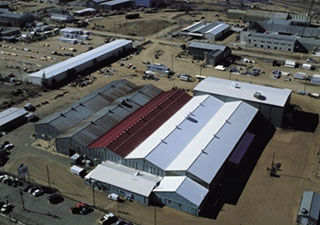 Do you need commercial roofing services completed on your building in Wyoming, MI before the winter is here? Call Empire Contractors today for all your roofing needs and you can be sure they'll be completed in a timely manner so that you can know your roof is ready to keep you dry and protected, no matter the season! We bring affordable, long-lasting services and solutions to building owners, property managers, and more in the area because we believe it's important for everyone to have a roof they can rely on. Reach out today at (231) 861 – 7221.
Budget Friendly

With such a major investment, it's important to keep it protected, but you shouldn't have to constantly stress about your roofing budget, and with Empire Contractors, you won't have to. We work to keep your roofing costs to a minimum while ensuring you always have a roof you can trust in. If you're working with a company that is letting you waste money on a failing roof, it's probably time to find a new company to trust your roof to. At Empire Contractors, we strive to help you get the most from your roof, but we know all things come to an end and if your roof is failing, it may not make sense to invest in repairs or services. A new roof doesn't have to be a daunting task when you're working with the right crew, let Empire Contractors make it all hassle-free!
Maintenance Plans
At Empire Contractors, we're happy to offer our customers our completely customizable roof maintenance plans because we know how beneficial they truly are. These plans can be adapted to fit your needs perfectly and they'll help ensure your roof can always get what it needs on time. Our maintenance plans will help you get a long, successful life from your roof and ensure it's in peak performing condition all along the way. Call our office today to learn more!
Call Today
Don't let the need for commercial roofing services bog you down, with the fall season right around the corner, now is the time to ensure you've got a team of professionals working for you. With Empire Contractors handling your roof appropriately, you can be certain your roof will stay in great shape all year long! For service in Wyoming, MI, call today at (231) 861 – 7221.