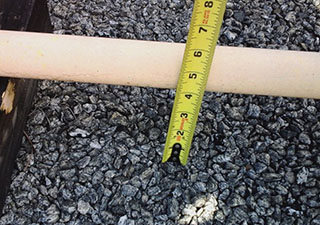 Put simply, having routine roof inspections completed by professionals each year can help save you thousands on your roofing expenses. Sounds nice, doesn't it? At Empire Contractors, we've been in the roofing industry around the Ada, MI area for decades and we've seen firsthand just what it takes to help our customers continue to get the most from their roofs and investments. Yes, your commercial roof is an investment, and a sizeable one at that. Why throw money away and wonder if you have a roof that can keep things protected with confidence? Schedule a roof inspection with our knowledgeable roofers for this coming spring and we'll make sure it gets what it needs to get the job done without question all summer long! Reach out today at (231) 861 – 7221 and know you're about to work with some of the finest roofing professionals in the beautiful state of Michigan.
Twice a Year
That's it. Two annual inspections are typically all it takes to help keep your building's roof in ideal condition. The spring and fall seasons are often the best times for a roof inspection as it allows our roofers to catch any issues incurred over the winter and summer seasons early on and this is best for both your roof and your budget! Having a professional inspection completed after any major weather blows through the area is a good move as well as storm damage left to sit atop your roof can quickly wreak havoc on your roof and building. When we're inspecting your roof, our team will inspect every inch and aspect to ensure no issues go unfound. Even the smallest issue left to sit and fester can be devastating and it doesn't take long! We're always here to help and we're just a phone call away.
Call Today
Don't fear having a roof inspection completed on your commercial or industrial building. The roofing professionals at Empire Contractors are here to help more building owners and facility managers throughout the Ada, MI area have the confidence in their roofs that they deserve. We bring you full-service roofing solutions and it always starts with a thorough inspection. Call us today at (231) 861 – 7221.