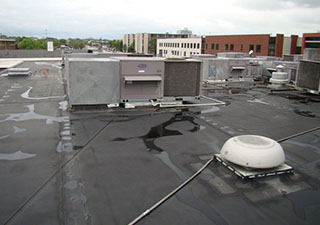 Have you been dealing with recurring roofing issues on your commercial or industrial building in Kent City, MI or the surrounding areas? Empire Contractors brings the skilled roofing professionals you need to know your roof will get repaired properly from the start. As a full-service commercial roofing company, every roofer on our crew knows how to handle the various types of commercial roofing systems. We work with rubber roofs as well as the many other types of commercial roofs out there and our crew will work diligently to make sure yours is always being handled appropriately. Don't let a warranty be voided due to shoddy workmanship, know your rubber roof repair will be completed with only the finest products and craftsmanship so you'll once again be left with a reliable roof atop your building. Reach out to our crew today at (231) 861 – 7221 and you'll soon have a roof you can trust in again!
Start Off Right
Anytime you call on us to handle your roofing needs, we'll always start off the job with a thorough roof inspection. This will allow our roofers to learn the exact condition of your roof and any problem areas that require immediate attention. We believe in doing the job right from the start and we know without a proper inspection, things can go unfound leaving you to deal with issues soon down the road. Put your roof in our professional's hands and know you'll soon have a problem free roof that's fit to last! Rubber roofs are one of the most durable on the market and we'll always work to make sure it stays in the finest shape possible so it can deliver unquestioned protection season after season.
Call Today
Are you noticing wearing or aging on your rubber roof as the snow melts here in Kent City, MI? Don't fret! It doesn't always mean replacement is looming and the roofing professionals at Empire Contractors will be out quickly after you call to make sure your roof gets any repair or service needs it requires. We're proud to bring our customers trusted repair and restoration solutions among our many others, give us a call today at (231) 861 – 7221.