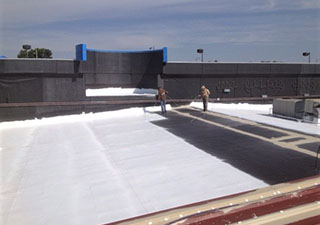 Roof coatings are truly a commercial roofing contractor's dream come true. We have only seen the benefits roof coatings have to offer and always strive to restore a client's roof before having to replace it. When you need a roof coating in North Muskegon, MI, and the surrounding cities, reach out to the team at Empire Contractors today at (231) 861 – 7221. We will get one of our professional roofers out quickly and let you know if a roof coating is the best option for your roof.
The Right Option
Roof coatings are a fabulous option for practically all types of commercial roofs. If you've been dealing with constant repairs or leaks on your roof and the problems just seem to continue to pop up, a roof coating could be a great option! If your current roof is in good condition but has been repaired extensively, a roof coating could benefit you!
The List Goes On
The list of benefits that roof coatings have to offer is very widespread. Just a few of the many, many benefits roof coatings offer are: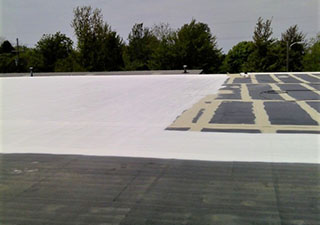 Can extend the life of your current roof by many years
Far less expensive than a roof replacement
Far less disruptive than a roof replacement
Works well in all climates (especially great for Michigan's ever-changing weather!)
Lightweight so it can be reapplied when needed
Typically pays for itself in 5-7 years
Up to 85% reflectivity, saving you on energy bills
And many more!
Call Today!
Don't let the constant repairs on your roof stress you any longer. The team at Empire Contractors is ready to get your roof restored with a roof coating that will last for many more years. When you are ready to get your roof back in its peak condition so that it can perform like a new roof again, reach out to our professional team of roofers. For all your roof restoration needs, call us at (231) – 7221. We are ready to restore more roofs with a roof coating in the North Muskegon, MI area and look forward to helping you today.