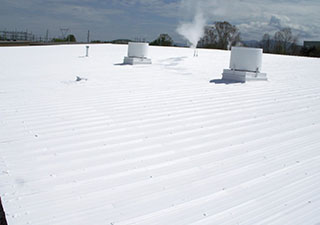 If you're a commercial business owner or property manager in North Muskegon, MI and you're looking for an affordable way to get your roof back to a like-new condition, consider a roof coating. A roof coating (also commonly referred to as a roof restoration) is becoming the most popular roofing solution available in the industry. However, many companies aren't as experienced to handle them, which is why we always suggest you with a team familiar with their application and with a superior product.
At Empire Contractors, we are proud to offer our clients roof coating solutions that can help breathe new life into your roof. We'll help you fend off roof replacement with this durable coating system. To learn more, give our office a call at 231-861-7221.
Beneficial Roofing Systems

There are so many benefits to these roof coatings that it's hard to know where to start. Not only are they more cost-effective than traditional replacements, but they also are more energy efficient. By reflecting up to 85% of the sun's UV rays, your roofing unit can become an energy-saving asset and save you substantially on your yearly energy bills.
While all this sounds amazing, we're not done yet! Roof coatings are also a seamless membrane that is installed over your existing roof. Because they're liquid applied, they create a durable, seamless layer that is watertight. Water infiltration will be a thing of the past! They also require no tear-off, so you won't have dump fees or expensive labor costs.
If you thought we were done, you'd be wrong. These coatings can add up to 18 years of life to your existing system, and when they become worn and need a refresh, they can be recoated. You can continue to get the benefits of these systems for decades to come.
Call Today
If all those benefits sound intriguing, we'd love to tell you more. Give our team at Empire Contractors a call at 231-861-7221 and let us spruce up your North Muskegon, MI property with a restorative roof coating. We offer free inspections and estimates, so whenever you're ready we're here to help you!