A flat roof repair is typically a fairly easy fix for any commercial roofing contractor, but when you hire the team at Empire Contractors, you can feel good knowing that it is getting done right the first time so that you are not dealing with the same issue soon down the road. With over 20 years in the roofing industry, we have seen a lot of what flat roofs have to offer and know the best ways to get flat roof repairs fixed up right quickly and efficiently. For any of your flat roof repair needs in the North Muskegon, MI area, call us today at (231) 861 – 7221.
Flat Roof Repairs Done Right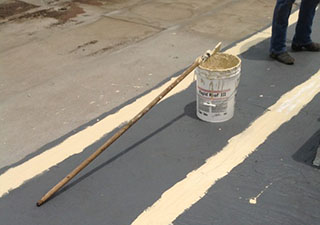 You should never deal with the same roofing issue time and time again, when you hire the roofers at Empire Contractors you don't have to worry about this being a problem. When we come out to take care of your roof, we will get any repairs needed fixed up properly so that it will not be an issue again. We also make certain to inspect your roof in its entirety so that we can catch any developing issues before they become major costly problems.
When you work with us, your roof will be in the best possible condition when we are done because we know how important a roof is to the entire building. We provide you with all the details and issues going on with your roof as well as all of the solutions available. We will make certain that your roof will be fit to last after any repairs needed are completed.
The Team To Count On
Empire Contractors is dedicated to providing the best roofing solutions to our clients in North Muskegon, MI and the surrounding cities by only offering the highest quality workmanship and customer service. We know you will be impressed when you work with us. When you're ready to get your flat roof repair needs taken care of, reach out to us at (231) 861 – 7221.