The experts at Empire Contractors stay at the forefront of the industry's newest techniques, materials, and innovations. If your building in South Haven, MI is in need of a flat roof replacement, call us at (231) 578-4760. We'll set you up with a flat roof that is built to last!
Roof Coatings
Since roof replacements can cost a lot of money and can also be disruptive, a lot of people are interested in hearing about the other options. At Empire Contractors, we don't like to see the potential of a roof go to waste. We use roof coatings to seal roofs up and improve their condition. This means maximizing the value of your roof with a lightweight and cost-effective roof coating!
When to Replace
Roof coatings are great, but sometimes a roof is just no longer worth investing in. If your flat roof is at the point where a flat roof replacement seems to be the best option, our team will give you an estimate on the project. Just schedule a roof inspection so that we can have a look at your roof's condition and determine the best course of action.
Flat Roof Experts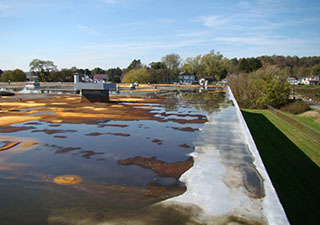 Empire Contractors is a company with decades of construction experience in the state of Michigan! Our craftsmen commonly work on commercial flat roofs, providing solutions like flat roof repairs, roof coatings, and flat roof replacements. If you are looking to have a new flat roof installed, we can go over the options with you.
Lower Utility Costs!
The energy-conscious team at Empire Contractors can have you paying less on utility costs with "green" roofing solutions. We install reflective roofs that improve the energy efficiency of commercial buildings. Feel free to ask us more about how we can help you save on energy bills!
Call Us Today!
Empire Contractors is a well-rounded roofing company with a team of roofing specialists who are ready for any kind of commercial roofing project. For a flat roof replacement in South Haven, MI, you can get in touch with us at (231) 578-4760 for an estimate on the project. You can always count on us to deliver mistake-free and cost-effective roofing services!