Has your once trusty flat roof seen better days? If you are beginning to think a flat roof replacement is on deck, Empire Contractors is the right company to reach out to! If you are in Hastings, MI, just give us a quick call at (231) 578-4760 to learn more about what our team can do to help!
Flat Roof Installation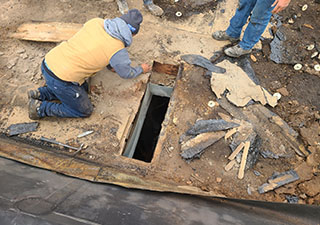 As a company that has been in business since the 1990's, Empire Contractors certainly has a team that is up for any sort of roofing task. We have a great track record and our craftsmen have shown that they can be counted on for first class new roof installations. If it is time to replace your building's flat roof, choose our team for a new roof that will last decades!
Replacing a roof is a big project. However, with excellent customer service, great prices, and experienced craftsmen, we make this process as stress-free as possible for our clients. Our team has a great safety record, and we keep our job sites clean and organized to minimize the distraction from your business!
Custom Solutions

Many roofs have unique requirements, and clients can have vastly different preferences. At Empire Contractors, it is our goal to provide the best solutions that we can. That's why we put effort into customizing solutions that better address the needs of each roof that we work on. After we take a complete look at your roof, we'll figure out the best course of action.
Roof Coatings
If your building is covered with a flat roof, its condition can be improved through roof restoration. The roofing technicians at Empire Contractors have been providing roof coatings to clients throughout Michigan for a number of years. They will be able to recognize if your flat roof can be salvaged with a roof coating.
Call Us Today!
If your flat roof can no longer be restored or repaired effectively, it's time to get estimates on a flat roof replacement. If you want your new roof started off right, go with Empire Contractors! Our team is the lead option in Hastings, MI. To get help from our qualified roofing specialists, call us at (231) 578-4760.