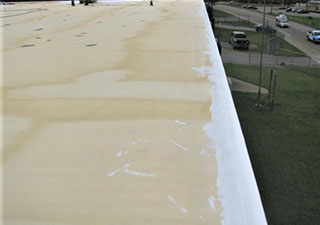 Looking through the available commercial roofing companies in Kent City, MI and the surrounding areas? Empire Contractors is proud and grateful to continue to be a leading roofing company in the area and we know that our more than twenty years in the industry helps our experienced roofing professionals provide our customers only the finest workmanship around. Help your roof succeed for the long life it was meant for, hire Empire Contractors for all your commercial roofing requirements, reach out today at (231) 861 – 7221.
Roof Inspections
A simple and incredibly valuable roofing service, roof inspections performed regularly on your roof can help our roofers stay ahead of the needs of your roof while also catching any issues early on. This is best for your roof and your budget as large, costly problems are far less likely to surprise any of us! Spring is right around the corner here in Kent City and that means it's a great time to have your roof inspected to ensure it can keep things protected without question this coming summer. Call our office today and get your roof scheduled for inspection!
Roof Restorations

A common service for our roofing professionals to complete, this wonderful roofing solution continues to impress. As a cost-effective alternative to roof replacements in many cases, you can help extend the life of your current roof by years when you have our team properly restoring your building's roof! With our trusted roof coating solutions, you won't have to wonder about any water finding its way in this summer.
Roof Replacements
While we never jump to a roof replacement as we work to repair and restore our customer's roofs whenever possible, we will also make sure you aren't investing in a roof destined for failure. Sometimes, while it's not ideal, a roof replacement is the best choice, and our team will work to keep things hassle free every time!
Call Today
Whatever the needs of your commercial roof are, you can trust in the company those in Kent City, MI continue to rely on. Empire Contractors leads the way for reliable commercial roofing companies, and we look forward to giving your roof what it needs to last. Give us a call today at (231) 861 – 7221.