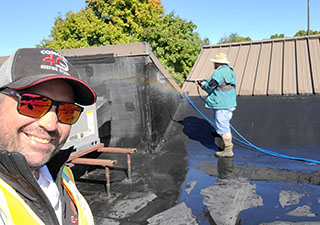 Are you trying to find a trustworthy commercial roofing contractor in South Haven, MI or the surrounding areas? At Empire Contractors we have been delivering the highest quality roofing solutions and services to building owners and property managers for 20 years. Our crew of highly experienced contractors know how to get a commercial roof fixed as quick as possible with amazing quality. Commercial roofs were designed to last and if it is properly installed and receives the right amount of maintenance, they can last you for many decades. When you put your trust into the team at Empire Contractors you can sleep easily knowing that your roof has a great chance of having a long and successful life as it was intended. If you want service from a crew you can trust, give us a call at (231)-861-7221.
Free Estimates

At Empire Contractors, we are proud to offer free roof estimates to our customers in our service areas. We provide quality commercial roofing to many cities in Michigan. If you are skeptical about your roofs condition, you can call us at any time, we can help schedule a time for our team to swing by.
Having roof inspections consistently will let you roof have a larger chance of success, our contractors will be sure no issues go unnoticed and any issue will be resolved quickly so that your roof can keep everything protected at 100% strength. We also offer custom roof maintenance plans that give you the chance to be worry free about your roof each season. These plans will keep your roof inspected and maintained and help out with roofing costs regularly each year. You can reach out to us for more information.
Contact Us Today
At Empire Contractors we will always be here to help you out. No matter what type or size of roof you have on your commercial building, you can put your trust into the experts at Empire Contractors to have it taken care of for a long time. Anytime you are in need of roofing help give our team a call at (231)-861-7221.