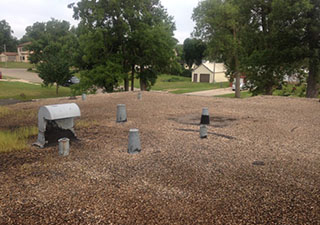 There's no way around the fact that a flat roof replacement is disruptive to your daily routine, the requirement for a tear off and new roof installation involves quite a bit. One thing that is a guarantee is that when you have the roofing professionals at Empire Contractors working for you on any job your roof requires, things will be kept hassle free and be done flawlessly from start to finish every time. For more than two decades, we've been delivering quality roofing services of all sizes to building owners and facility managers throughout Kent City, MI. With quick response times and job completions, you won't have a roof in need for long when Empire Contractors is taking care of things! Give our team a call today at (231) 861 – 7221 and know we'll get anything your roof needs handled with ease.
Keep It in Order
Stressing about the needs of your building's roof doesn't have to be a thing when you have Empire Contractor working for you! As a building owner or facility manager, we know you have a lot of items to check off your to do list and we'll make sure your roof isn't a thing you have to worry about. To keep your roof in peak performing condition season after season and year after year, we bring you customizable maintenance programs that will keep our roofers on your roof regularly which will help to keep your roof in the best shape possible! This is also ideal as large costly repairs are far less likely to pop up and our roofers will get your roof the services it needs at the best times! When a flat roof replacement can no longer be put off, we'll let you know the best options for your building, and we'll get to work immediately.
Reach Out Today
Don't let the need for a flat roof replacement keep you up at night. While the price is typically the most stressful part of a replacement, you can rest easy knowing you have options when it comes to financing and restoring! For building owners and facility managers, we keep it all simple and provide flawless services anytime we're working for you. For superior roofing solutions in Kent City, MI, reach out to us today at (231) 861 – 7221.