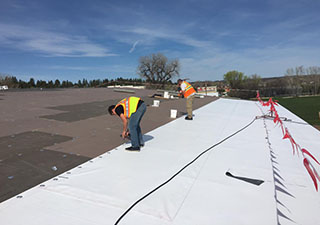 If your flat roof is starting to show signs that it needs replaced, selecting a single ply roofing system might be the best choice for your new roof. Not only are they used widely throughout the country, they are also one of the most popular roofing solutions on the market. They work wonderfully for just about every roofing surface, so if you're looking for a new option for your commercial or industrial facility, be sure to not overlook single ply roofing systems.
To learn more about which single ply roofing option is best for your Whitehall, MI property, call Empire Contractors at 231-861-7221.
About the Single Ply Options
There are three popular options in the roofing industry that make up the "single-ply" systems. Although each of them have their benefits, finding the right one for you might seem daunting. That's why hiring a professional contractor who you trust can help. When you work with the team at Empire Contractors, we'll do the following: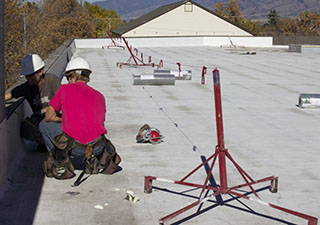 Assess your current roofing situation
Determine what didn't work with your last roof
Find out if there were features that you did like with your previous system
Determine your budget
Ask if you're interested in an energy saving roofing solution
Once we have narrowed down those questions, we'll be able to offer suggestions towards one of the following single ply systems:
EPDM (also known as rubber roofs). These roofing systems are the cheapest of the single ply options. They are durable, easy to install, and can last up to 30 years. They are traditionally darker in color, so they are not as energy friendly as the other single ply systems. However, that can all be changed with a roof coating!
This roofing system is heat welded and is perfect for roofs that need extra flexibility and durability. They are also resistant to chemical damage and acid rain, so depending on your needs, a PVC roof might be the best for you.
This white, reflective roofing system is one of the newest single ply options, but it's burst onto the scene and is an incredibly popular choice due to its environmentally friendly benefits.
Learn More Today
If you're ready to learn more, call 231-861-7221. One of our team members will visit your Whitehall, MI property and help determine which single ply roofing system is right for you. We look forward to helping you with this decision.