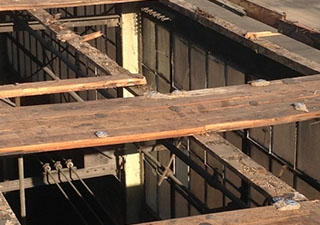 As the most popular roofing type in the commercial roofing industry, flat roofs are known for their affordability and durability. But that doesn't mean there won't come a time when they need to be replaced. There are many challenges that can cause a flat roof replacement, and if you suspect that is what is happening with your roof, call Empire Contractors. You can reach us at 231-861-7221 and we will come out to provide a thorough roof inspection. You'll be impressed with our customer service, quality roof replacement solutions, and our dependability. And your flat roof replacement will come with not just a trusted manufacturer warranty, it will also come with a workmanship warranty that you can count on.
Is Replacement Really Necessary?
There is a study in the commercial roofing industry that shows as many as 80% of roofing units are prematurely replaced. With that scary statistic, we want to ensure that our clients in Whitehall, MI know that we will only suggest a flat roof replacement if that is the only option available to you. That is why we begin every appointment with a detailed inspection to determine the level of damage your flat roof has sustained. Some of the most common issues we come across include: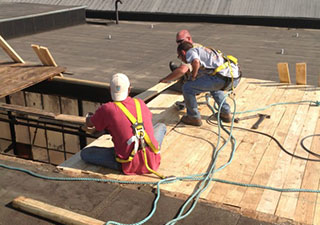 Weathering/Old Age
Leaking
Low spots, dips, valleys
Separating flashing
Separating seams
Ponding or pooling water
Substrate shrinkage or lifting
Tears, holes, punctures, rips
Storm damage
Many of these things can be addressed by repairs, or even a restoration; however, if your roof is too far damaged, we will provide you with flat roof replacement solutions. We will take the time to determine which is the correct substrate for your new roof, then we'll provide budget friendly options to help you make the best decision possible for your flat roof.
Call For An Estimate
If you are experiencing problems with your flat roof, don't hesitate to call Empire Contractors. Our office number is 231-861-7221 and we are standing by to help you with the flat roof replacement you need for your Whitehall, MI property. You will always receive the utmost care for your property from our trained, professional team.