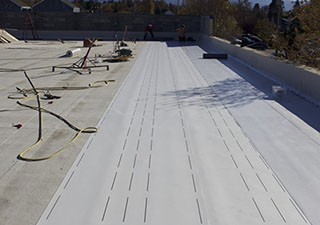 Single-ply roofing systems are great options when it comes to choosing reliable protection for your commercial or industrial building in Lansing, MI. There are quite a few options when it comes to single-ply roofing systems and they have all proven themselves durable enough to do well in our climate. With flexibility that allows them to expand and contract with the everchanging temperatures and different traits that allows you to really get the most from your roof, we know we have a roofing system that will allow you to have your building protected properly for years! At Empire Contractors, we've worked hard for more than two decades to build a team of knowledgeable, professional roofers that are committed to providing our customers with flawless solutions and we're proud of every roofer on our team. If you've been looking at replacing your current roof with a single-ply roofing system or if you're looking at having a new roof installed on your new building, reach out to us for more information, (231) 861 – 7221.
We're Happy to Help!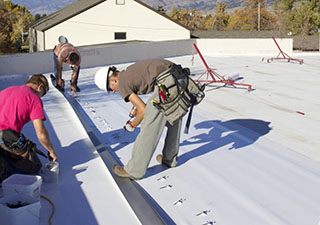 Whether you're looking to get all the details about each single-ply roofing system, or if you know which one you'd like and you're ready to find out more about installation, we're always here and happy to help! Our roofers enjoy making sure you are well informed about each type of single-ply roofing system's benefits so that you can truly get the one best suited for your building and budget. From energy efficiency to chemical resistant to cost-effective, we've got the options you need! We know that it is important to help our customers have roofs that last for decades and helping you choose the roof best fit for you is just the first step in making this possible.
Trust the Experts
No matter how small or large your building is, our team of expert roofers are ready to get you a flawlessly installed roof so that you can rest easy knowing your building is protected confidently once again. We deliver exceptional results throughout Lansing, MI for commercial roofs of all types and single-ply roofing systems are just one of the specialties of the team at Empire Contractors. We happily provide our customers with free estimates, call today to get yours, (231) 861 – 7221.