At Empire Contractors, we know it can be overwhelming when you are searching for a reliable company to compete any work on your commercial or industrial building or roof. It can be hard to know if you are hiring a trustworthy team or just another company in it for the quick fix. We have worked hard to gain our great reputation as one of the top commercial roofing companies in Lansing, MI and the surrounding areas and we don't plan on stopping anytime soon. We are honored to be the company to call and we will continue working hard to bring our customers only the finest customer service and workmanship possible. We strive to help every customer get the most from their commercial roof, and our affordable commercial roofing services and solutions help to keep your roofing costs down while ensuring you have a reliable roof atop your building. Give us a call at (231) 861 – 7221, we're ready to help more building owners be confident in the state of their roofs once again.
Trust the Professionals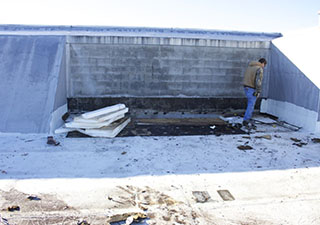 It doesn't matter how small your commercial roof is, and even if it only requires minimal services or repairs right now, it's important to make sure you have entrusted the help of knowledgeable and skilled professional roofers. Any repairs or services that your roof needs should be handled by professionals to ensure your roof gets the specialized care it needs to continue protecting your building properly. Your commercial roof was designed to last and with the help of the professionals at Empire Contractors, you can be sure it will be able to! We take care of it all, from complete roof replacements to simple repairs, your roof will always be in the finest hands around and get what it needs to have a long, successful life.
Call Us Today!
If you think you have a roof in need, don't wait, give the team at Empire Contractors a call today! We will make sure your roof gets a thorough evaluation so that you know along with us exactly what condition it is in and what it might require. We continue to work hard to maintain our great reputation as one of the leading commercial roofing companies in the Lansing, MI area and we'll show you why you can trust your roof to us! Call today at (231) 861 – 7221.