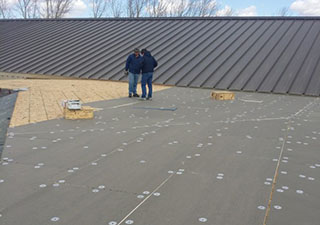 Trusting your single-ply roofing system to knowledgeable experts that know how to get it the specific care it requires is essential to ensuring you can get a long, successful life from your roof. At Empire Contractors, our roofers bring the skills and resources to get all unique roofing systems the care they require to keep our customers protected. No matter the roofing system you have atop your building in Cadillac, MI or the surrounding areas, you can rest easy knowing when you call on the team at Empire Contractors, we've got you covered! Give us a call at (231) 861 – 7221 and we'll make sure you can trust in your roof all season long!
Designed to Last
Your commercial roof, no matter the type, was designed with longevity in mind, and when you choose to work with Empire Contractors, your roof will have the chance to last! Each type of single-ply roofing system is durable and dependable, doing well in our climate here in Michigan, but like anything, they will require repairs and services along the way to ensure they can keep things protected properly. We strive to help our customers get the most from their roofs; whether you have a TPO, rubber, or other type of roof, we'll make sure it gets handled appropriately from the moment you call on us!
Looking for a Change?
If you're looking to have a new single-ply roofing system installed to replace your existing roof, we know the options can be overwhelming. Our knowledgeable roofers will listen to your needs and make sure you have all the details, pros and cons of each type so that you can make the best decision for your building and your budget! We're always here to help, call Empire Contractors today!
Reach Out Today
For full-service single-ply roofing system services, call the professionals at Empire Contractors. We work hard to make sure every roof we work on gets the specialized care it needs to last, and we'll make sure yours can continue to get the job done right! We deliver quality services and solutions for all roof types throughout Cadillac, MI and we look forward to working with you! Reach out today at (231) 861 – 7221.