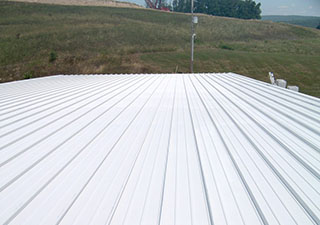 If you are a building owner or manager and you haven't heard of a roof coating before, you should definitely give our team a call. A restorative roof coating is one of the easiest and most affordable ways to keep your commercial roof in great shape so that it can last for years. Roof coatings can lengthen the life of your roof and help you to avoid a premature roof replacement, which will save you a good amount of money over the years. At Empire Contractors, we deliver flawless roof coating applications that our customers in the Norton Shores, MI area can trust in all year long. If you are ready to make sure your roof is waterproof and durable once again, give us a call at (231) 861 – 7221.
Save With Restoration

When you choose to have a roof coating applied to your commercial roof, you are saving in a couple of great ways. Roof coatings save you a great deal of money and they also save your roof over the years. Many times, a failing roof can be saved with a roof coating instead of having to replace it. Roof coatings are one of the most popular roofing services we offer and it's no surprise to us as to why. They are incredibly cost-effective and when applied properly and at the right times, they can keep your current roof performing like new for decades. Call our office today to learn more about the long list of benefits of a roof coating.
Reach Out Today
Whether you've never heard of a roof coating before and would like to learn more or if you would like a new roof coating applied to your commercial roof, reach out to the experts at Empire Contractors today. We will send someone out right after you call to assess your roof and make sure it's a good candidate for a roof coating. When commercial roofs are properly maintained, roof coatings can be applied time and time again to continue to provide the same great benefits for your roof. If you are in the Norton Shores, MI area, give us a call today at (231) 861 – 7221.