Ready to hire a commercial roofing contractor for a roof coating in Hastings, MI? If this is the case, it's time to get in touch with the experts at Empire Contractors. Please call our team at (231) 578-4760 to get a high-quality roof coating at an excellent price!
Lower Energy Costs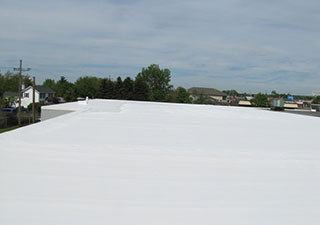 Lowering energy costs is a major priority for a lot of business owners. These costs can be impacted quite a bit by a commercial roof. Empire Contractors restores roofs with roof coatings. This results in a more reflective surface, which helps lower the energy consumption of your HVAC systems!
A roof coating will save you money in more ways than one! Not only will it lower energy costs, but it will also lessen the amount you'll need to spend on your commercial roof. Your roof will last longer, and you will not have to spend as much on repairs and maintenance in the following years!
Restoration Benefits
Restoring commercial roofs is one of our main focusses! In our decades of experience, we have seen time and time again how effective our roof coatings are at preventing roof leaks and improving the condition of commercial roofs. Choose our team to restore your roof and benefit from many extra years of total protection!
The craftsmen at Empire Contractors never shy away from a challenge! No matter what it is that your commercial roof needs, our team has the experience, the tools, and the time to do it right. Roof coatings are our bread and butter, so get in touch with us today for a fully restored roof!
Other Services
Restoring a roof is not always the answer. Sometimes, it's best to just cut your losses and start over with a new roof. Empire Contractors has the kind of roofing team that people can feel good about hiring for a full roof replacement. Our certified installers lead to roofs that last longer!
Call Us Today!
Think a roof coating could help to improve the condition of your roof? With the experienced roof restoration professionals at Empire Contractors, a new roof coating can be a great investment. We're ready to help others in Hastings, MI — just call us at (231) 578-4760 to learn more!