With more than trusted experience, Empire Contractors brings building owners, property managers, and more throughout the Wayland, MI quality roofing solutions they can trust. For more than twenty years, we've been helping our customers' roofs succeed and we look forward to helping extend the life of your commercial roof with our affordable roofing services. Whether we're completing a flat roof repair, a roof restoration, or even a total roof replacement, our roofers will always handle your roof appropriately. We know every roof is different and that's why our roofing services are customized to your roof's unique needs. Get the most from your roof and investment, call Empire Contractors today at (231) 861 – 7221.
Proactive Roofing Solutions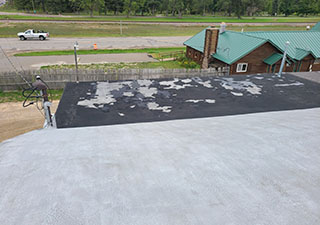 At Empire Contractors, we believe options are a great thing to have and that's why our available roof maintenance plans are completely customizable. While any plan you have your roof on with us will keep it regularly inspected, you can be in control of your budget and your roof with these great roofing options. When you stay ahead of the needs of your roof, you'll notice great savings and you'll be able to be worry free about your roof throughout its long life. Proactive roofing solutions are incredibly beneficial, keep things simple with Empire Contractors handling all your commercial roofing needs!
Always Quality
We haven't gained our great reputation by offering lackluster roofing products and services. For more than two decades we've been bringing our neighbors quality roofing services they can count on to last. With only the highest quality products being used on your roof and with our roofers' outstanding craftsmanship, you'll have a roof you can trust in to last for years as it was designed to!
Reach Out Today
No matter the services you need completed on your roof in Wayland, MI, Empire Contractors is ready to get things done before the snow falls. Don't let a flat roof repair sit all season, keep your costs and stress small and call today to schedule an inspection! Whenever you have a roof in need, just reach out to us at (231) 861 – 7221.