Look no further than Empire Contractors for dependable commercial roofing services in Grayling, MI. We know your company's roof is an investment, and maintaining it is crucial to preserving your assets, employees, and customers. We provide outstanding roofing services to help you. Please call 231-861-7221 for roofing needs. This blog discusses our different offerings and our quality commitment.
Our Services
Installation of a Commercial Roof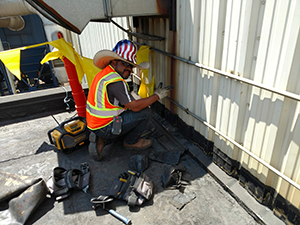 Your choice of roofing system is an important one. Empire Contractors' skilled staff specializes in the installation of numerous roofing systems, ranging from traditional shingle roofing to more modern options like TPO and EPDM. We will collaborate with you to find the best solution for your commercial property. Our skilled crew will ensure your roof installation is efficient, long-lasting, and cost-effective.
Roof Repairs and Maintenance
Even the best roofing systems may require repairs and upkeep over time. We are pleased to provide proactive inspection services that identify and address any issues before they become serious difficulties. Whether it's a little leak, storm damage, or normal wear and tear, our trained professionals will fix your roofing concerns as soon as possible, assuring your property's safety.
Roof Reconstruction
Roof restoration is a great low-cost alternative to a costly roof replacement. At Empire Contractors, we use sophisticated roofing technology and high-quality materials to restore the integrity of your current roof, extending its lifespan and saving you money.
Roofing Emergency Services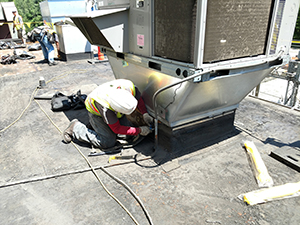 Emergencies happen at the worst possible time. Empire Contractors is accessible 24 hours a day, 7 days a week, to provide emergency roofing services in Grayling, MI. Our professional staff will arrive quickly to assess the issue, take the necessary precautions to prevent more damage, and give dependable temporary solutions until permanent repairs can be done.
Green Roofing Alternatives
Empire Contractors recognizes the significance of eco-friendly roofing solutions. We provide green roofing choices such as cool roofs and energy-efficient systems, which can help you minimize energy usage and utility bills while reducing your environmental imprint.
Call us right away!
Empire Contractors is your dependable partner for commercial roofing services in Grayling, MI. You can count on us for a wide range of high-quality commercial roofing services, including emergency repairs, weather-related inspections, and even insurance claims assistance!
Our dedication to excellence and customer satisfaction distinguishes us in the business.
Please call us at 231-861-7221 if you have any roofing jobs or inquiries. Empire Contractors is ready to service you and ensure your business property is safe, secure, and efficient.