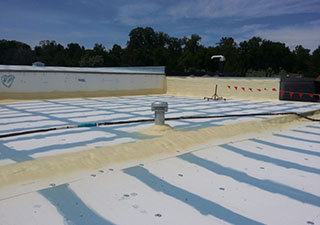 Do you need professional commercial roofing services you can trust in Fruitport, MI or the surrounding areas? With Empire Contractors, you'll get that and so much more! We are proud to offer unmatched workmanship and customer service that will leave you and your roof happy. We've been perfecting our skills for more than twenty years and are proud to say your roof will be set up for a long, successful life after we've done the work. Your commercial roof, no matter the kind, was designed with longevity in mind and at Empire Contractors, it's our goal to help you see it last successfully. We bring a complete list of services and solutions to building owners that will help keep your roof performing like new for years. We know it can be stressful finding a reputable company to hire for any services right now and we are now offering no-contact appointments as well as 100% virtual experiences that will keep you and your building protected. You will still receive the same great customer service and workmanship and you will always be in the know of what your roof requires. Call today to learn more, (231) 861 – 7221.
Complete Coverage
When you choose to work with Empire Contractors for any of your commercial roofing needs, you can be certain we'll be the only roofer you'll need! Whatever your roof might need, we will get it taken care of quickly to ensure your roof can be protected once again. Our complete list of commercial roofing services includes:
Roof inspections
Roof estimates
Leak detection
Roof repairs
Roof restorations
Roof installations and replacements
Roof maintenance
And more!
We know you have enough on your plate, don't add a roof in need to your list, we're here to help! We're here to keep your roof in great shape and make sure it can get what it needs, when it needs it. If you want complete protection you can trust, call our team today!
Reach Out Today
When you call on Empire Contractors to complete any required commercial roofing services or repairs, you can rest easy knowing your roof is in the finest hands around the Fruitport, MI area. Reach out today at (231) 861 – 7221 to schedule your roof for service or inspection and we'll make sure it gets what it needs!