Single-ply roofing is one of the most common types of commercial roofing systems in Traverse City, MI. Just as in the case of other roof systems, over time, single-ply roofing also requires maintenance, repairs, replacement, and other roofing services. For all your single-ply roofing needs, Empire Contractors is your choice. As a trusted company with over 20 years of experience in the construction industry, we house only qualified and reliable roofers who are always on-hand to serve you. For all your roofing issues, including single-ply roofing in Traverse City, MI, reach out to us today at (231) 861-7221.
First-Rate Service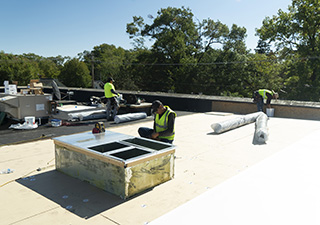 The fact that we are the leading roofing company in Traverse City, MI illustrates that our roofing specialists believe in providing nothing short of exceptional service. Whether it's a roof coating project or merely a roof inspection, they strive to carry out an all-around job from the get-go until the very end of your project. Every step taken throughout the course of the project will be as per your wishes and if you've got any questions, our roofers will address them appropriately so that the highest level of customer satisfaction can be achieved. Furthermore, as the needs of each single-ply commercial roofing system differ, we offer custom-tailored roofing services so that your roof gets the particular attention it requires.
Quality Products
Apart from the standout workmanship of the roofing experts at Empire Contractors, we also make use of only the premium commercial roofing products. Roofs play an integral part in the protection of your commercial building against the heat of the summer and the cold of the winter. Hence, using low-quality products on it can cause it to deteriorate long before it is expected to. Once you have hired our professional craftsmen, you can rest easy knowing that your single-ply commercial roof will be dealt with only top-quality products.
Call Us Today!
With a sheer ability to tend to the needs of all sorts of roofing systems, Empire Contractors is your best bet for your single-ply roofing projects if you own a commercial building in Traverse City, MI. Give us a call at (231) 861-7221 and let our proficient crew help you!