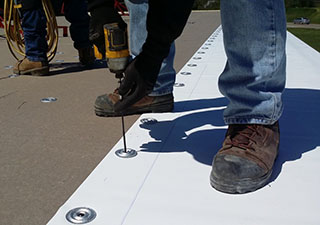 Over the course of the last 30 years the trend in the roofing industry has changed. What were once the go-to roofing membranes like built-up and modified bitumen have now been replaced with single ply roofing systems. This is mainly due to the flexibility, ease of installation, and affordable price tag. Not to mention these roofing systems are incredibly durable as well!
If you have a property in North Muskegon, MI that needs a new roof, before you settle on an older system, consider a single ply roofing system. At Empire Contractors, we are here to help you determine which substrate is right for your property. To learn more about how we can help, just call 231-861-7221.
Types of Single Ply Roofing

These systems are categorized into two different sets:
Thermosets
Thermoplastics
Thermosets are made from rubber polymers and the most familiar one for business owners is EPDM. Ethylene propylene diene monomer is a rubber roofing membrane that is well known for its affordability and durability. They've been proven to withstand harsh weather conditions and protect facilities for decades! The downfall of these systems comes from their dark surface color. Instead of reflecting the UV rays of the sun, these roofing systems absorb them which can cause an increase in utility costs.
Thermoplastics are the other type of single ply roofing systems. The two membranes are TPO and PVC. Both of these membranes provide improved stability and strength to their structures. And, on top of that, their white, reflective color helps provide energy savings!
Ready For an Estimate
It is important to remember that every roof is as unique as each company. What works for one might not be viable for another. That is where the professionals at Empire Contractors step in. We know the roofing industry and have been serving clients in and around North Muskegon, MI for 20+ years. Allow us the opportunity to inspect your facility and provide you with the single ply roofing options that fit your personal needs. You can give our office a call at 231-861-7221 to get started.