Are you Looking for enduring and fashionable roofing solutions in Grayling, Michigan? Empire Contractors is the company to contact. Call us at 231-861-7221 to learn more about how our single-ply roofing services can turn your Grayling MI, property into a sophisticated haven of safety.
Understanding Single-Ply Roofing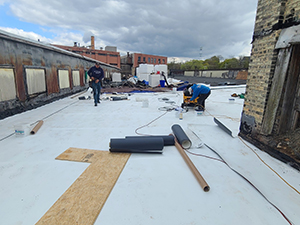 Single-ply roofing is a highly adaptable and durable solution that is becoming increasingly popular in residential and commercial applications. What distinguishes it?
Energy effectiveness: Single-ply roofing systems have been specifically designed to reflect sunlight, which can cut cooling expenses and lessen the environmental effect of your house.
2. Simple Installation: The ease of installation minimizes labor costs, cuts down on installation time, and avoids disruptions to your regular routine.
3. Cost-effective: Single-ply roofing is a suitable option for all sorts of properties since it offers a cost-effective solution without sacrificing quality.
4. Durability: Single-ply roofing is a long-lasting option resistant to UV radiation, severe weather, and other environmental elements.
Our Single-Ply Roofing Services
Empire Contractors offers a variety of single-ply roofing solutions that are specially designed to satisfy your particular needs. Our product line includes:
1. TPO (Thermoplastic Olefin) Roofing: TPO roofing membranes have good heat, UV, and chemical resistance, making them an excellent option for commercial facilities.
2. PVC (polyvinyl chloride) roofing: PVC roofing is a popular option for both residential and commercial roofs because of its exceptional longevity and excellent resistance to fire, chemicals, and water.
3. EPDM (Ethylene Propylene Diene Monomer) Roofing: EPDM roofing offers long-lasting protection thanks to its remarkable flexibility and weather resistance.
Why Should You Choose Empire Contractors
You pick perfection when you call Empire Contractors at 231-861-7221 for your single-ply roofing requirements:
1. Skill: Your home will receive a top-notch roofing system thanks to the dedication of our skilled roofing contractors.
2. Quality: To ensure your roofing system's lifespan and good performance, we prioritized using premium materials.
3. Tailored Solutions: We collaborate closely with you to understand the specific requirements of your property and offer specialized solutions.
4. Customer satisfaction: We place great emphasis on your total satisfaction. Our dedication to excellence guarantees long-lasting and trustworthy outcomes.
Call us now!
Upgrade your Grayling, Michigan property with single-ply roofing from Empire Contractors for its sophistication, dependability, and affordability. Call us at 231-861-7221 right away to learn more about how we can turn your home into a sanctuary of safety and elegance. To realize the maximum potential of a single-ply roofing system, get in touch with Empire Contractors.