Have a building with a rubber roof that could use a repair? For a rubber roof repair and so much more, the people of Montague, MI can always count on Empire Contractors. Our seasoned craftsmen know how to improve the condition of rubber roofs so that they can last years longer before needing to be replaced. To schedule a rubber roof repair, just call us today at (231) 861-7221.
Roof Leak Detection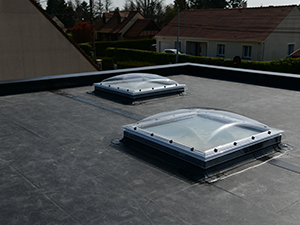 Figuring out where and why a rubber roof is leaking is the first step towards a full repair. At Empire Contractors, our thorough roof leak detection results in full and effective roof repairs. On rubber roofs, there are a few things to look out for. This includes holes, bubbles, or cracks in the membrane that can leave it vulnerable to roof leaks. On top of this, it's important to check the seams of a rubber roof very well. Seam separation is an easy fix, but if left unaddressed, can lead to a lot of costly water damage.
Other Services

At Empire Contractors, we are proud of our team's versatility. We provide many different types of commercial roofing services to a number of different roof types. This includes repairs, restoration, and replacements for metal roofs, single-ply roofing systems, and more. Just get in touch with us and we will supply you with an estimate on the project.
Why Empire Contractors?
You may notice that there are a decent number of options when the time comes to hire a roofing company. However, you should be very selective during the hiring process so that your roof gets the help it needs without any costly mistakes. The team at Empire Contractors is always good for first-rate craftsmanship, fair prices, and fast solutions to tricky roof issues.
Call Us Today!
Empire Contractors is always going to be there for those in Montague, MI who are in need of a trustworthy commercial roofing company. We are happy to provide a large selection of commercial roofing services, including rubber roof repairs. If you would like to set up an inspection so that your rubber roof can be repaired correctly, get in touch with us today at (231) 861-7221.