Empire Contractors is a leading roofing company that helps the people of Waterford, MI save on their commercial roof systems! For a dependable provider of commercial roofing services, get in touch with our experts at (231) 578-4760. We can handle any type of roofing project and look forward to figuring out how we can best improve the condition of your roof.
Roof Inspections

Any roof that is inspected on a regular basis will be in a better position to last longer. The thorough inspections that we provide here at Empire Contractors will help prevent your roof's condition from deteriorating. Our team makes getting a roof inspection simple — just give us a call and we will figure out a time that is convenient for you!
Roof Maintenance
Staying on top of roof maintenance is incredibly important if you are hoping to save big on your commercial roof. The experts at Empire Contractors have had much success extending the lifespan of commercial roofs by providing custom maintenance services. We will sort out your roof's unique needs and get it the help that it needs to last much longer.
Roof Restoration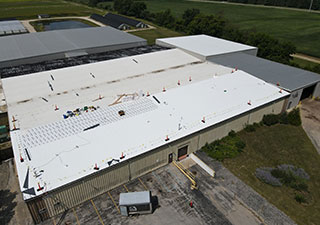 The roofers at Empire Contractors are pros when it comes to roof restoration. If your roof is a solid candidate for a new roof coating, we can tell you more about the process. Restoring a commercial roof can lead to several more years of leak-free roof protection and can even help lower utility costs significantly!
Roof Replacements
If there is no hope at repairing or restoring your roof, or if it is at the point where it is not worth trying, we'll provide you with an estimate on a roof replacement. Here at Empire Contractors, we have an extensive history of installing new commercial roofs the right way! With our team handling your roof replacement, your building will be well-protected for many years!
Call Us Today!
When you are prepared to set up a roof inspection for your commercial roof, get in touch with our experienced roofing specialists today at (231) 578-4760. Empire Contractors continues to be the top choice for anyone in Waterford, MI in need of a roofing contractor. We offer a full list of cost-effective commercial roofing services!