Rubber roofs can be tricky to repair. Locating a roof leak is often quite challenging, but the roofers at Empire Contractors have a knack for resolving roof issues successfully. We work on all sorts of commercial roofs in Manistee, MI. For a rubber roof repair, call Empire Contractors today at (231) 578-4760.
Rubber Roof Experts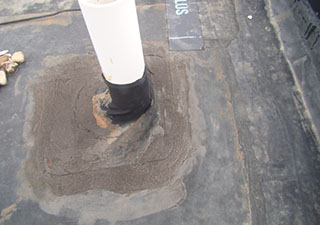 Rubber roofs have long been used to protect commercial buildings across the United States. Empire Contractors is a commercial roofing company that has been around for a while now. Naturally, our guys are very accustomed to repairing, restoring and replacing these kinds of roofs. You can count on us to take care of your roof's issues now and down the line as well!
There is no replacing experience. We've seen plenty of challenging rubber roof situations, but we always find a way to make it work. If your rubber roof is leaking, the first step is to set up a roof inspection. After we take a look, we will figure out what is causing the problem and then come up with a plan to repair your rubber roof.
Commercial Roofs That Last!
The level of craftsmanship definitely varies between commercial roofing companies. Empire Contractors is in the top tier because of our experienced, insured, and licensed roofing specialists. We bring our commercial roofing expertise to each project and are committed to providing long-lasting roofing solutions. We continue to build our company name by letting our quality work speak for itself!
Products You Can Trust
A lot of people don't even realize what is being put on their roofs. The quality of the roofing products out there definitely differs quite a lot. Here at Empire Contractors, we only use quality roofing products that have been proven to last. This, paired with our experienced craftsmen, makes for commercial roofs that will last problem-free for a long time!
Call Us Today!
Getting a rubber roof repair doesn't have to be a hassle. Empire Contractors is here to make the whole process easy. We have an experienced team of roofing specialists who have everything down to a science. For help from expert commercial roofers in Manistee, MI, call us at (231) 578-4760.