Empire Contractors has a long history of working on commercial flat roofs. We continue to gain favor with the people of Cadillac, MI thanks to our honesty, high-level craftsmanship, and great prices. If your building is in need of a flat roof repair, feel free to reach out to us at (231) 578-4760.
Roof Leak Detection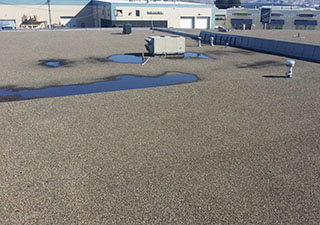 Flat roof issues can be tricky because figuring out exactly where water is getting in is not always so easy. Luckily, with Empire Contractors your roof will be inspected by experienced flat roof experts. We'll find any leaks and/or other flat roof issues and have them fixed up shortly after. If we feel as though your roof could use a roof coating or possibly even a flat roof replacement, we can give you a free estimate on the project!
Flat Roof Restoration
Hoping to get your flat roof back to the condition it once was? It could be the right time to restore your flat roof with a roof coating. Empire Contractors uses roof coatings to reinforce flat roofs. This service will fully seal up the surface of your flat roof and can also benefit your commercial building by making it more energy efficient.
Flat Roof Replacements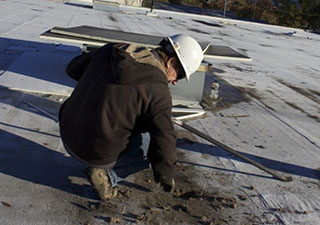 Although everyone hopes to make their roof work for as long as possible, you don't want to hold on to it for too long. Once the materials have reached their maximum age, roof problems can start popping up on a consistent basis. You can rely on the team at Empire Contractors for a quality flat roof replacement at a great price!
Experienced Roofing Specialists
There is a major difference between a roofer with a few years of industry experience and a roofer with decades of industry experience. Roofing is a complex craft that takes a very long time to perfect. With Empire Contractors, your roof will always be looked after by experienced roofing specialists!
Call Us Today!
Getting our guys over to have a look at your roof is easy. Simply call our team at (231) 578-4760 for a prompt and thorough roof inspection. Our commercial roofing specialists are prepared to help whenever your commercial building needs a flat roof repair, roof coating, or any other kind of commercial roofing service!