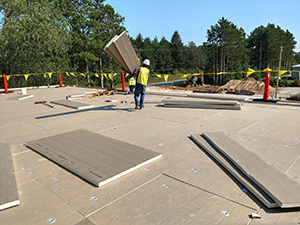 If you are a building owner in Plainwell, MI, looking for a roofing company with years of experience providing flat roof replacement services, your first choice should be Empire Contractors. We can schedule your inspection and begin working on your project. To learn more, call us today at 231-861-7221!
Coatings
Our specialists have helped many building owners avoid a premature replacement thanks to our excellent coatings. We know that a replacement is a large project, which is why we only suggest this once we have exhausted all other alternatives. We strive to save you time and money.
Flat Roof Experts
Experience is crucial in the roofing industry. Thankfully, our craftsmen have been trained by the best in the business, and each one of our team members is dedicated to delivering flawless results. We have many years of experience providing top-notch flat roofing solutions to building owners across the area.
Request Your Estimate
It's a good idea to consider your options before hiring a contractor for your flat roof replacement project. Therefore, you should request estimates from several different companies.
Our ideal combination of affordable prices and high-quality craftsmanship is hard to beat. To request your estimate, contact us today! We work with a wide range of roofing systems, including EPDM and TPO, so you can be sure we can help you too.
Why Choose Us
You may have many options to choose from when looking for a contractor who provides flat roofing services. However, it is important to partner with a team who offers fair prices, honesty, and top-notch craftsmanship. Thankfully, those in the area can rely on our crew. We have a stellar track record of consistently providing top-quality commercial roofing services. See for yourself why so many across the area continue to choose us!
Contact Us Today
If you are a building owner in Plainwell, MI, and you are searching for a dependable commercial roofing company for your flat roof replacement, the team at Empire Contractors is your best option. Our crew has an excellent track record, so you can trust us to continue delivering first-rate results. To request your estimate, call us today at 231-861-7221! We are eager to partner with you.