With the spring season here in full swing in the Gaylord, MI area, the snow has melted off our roofs and that can mean it's a time we start to notice it's age or wearing. Here at Empire Contractors, we're happy to tell you we have incredible roof coating and restoration services that can help prolong a roof replacement. Many times, worn or aging roofs can be treated with a roof coating application which can allow you to get years extra out of your current roof. Anytime you can put successfully put off a roof replacement, it's a good day! Help your roof in Western Michigan succeed, call our team today at (231) 861 – 7221.
Restore or Replace?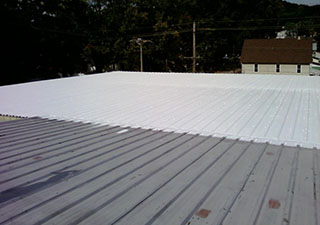 The list of benefits that come with our quality roof coating services is extensive, but it's important to make sure the right service is being completed on your roof. While a roof coating is often a great alternative to a total roof replacement, it's not always the best course of action and at Empire Contractors, our honest and professional roofers will let you know exactly what your roof is due for after a thorough inspection.
Premature roof replacements continue to be far more common than we'd like to see here at Empire Contractors and that's a statistic we work hard to help every one of our customers avoid. They're a major waste of time and money for all involved. If your roof can be restored with a trusted roof coating application, we'll let you know and get to work immediately! A fresh roof coating can deliver the watertight protection you need all summer long! If your roof has seen the end and investing in a roof coating no longer makes sense, we'll let you know your replacement options. Whatever the case, our roofers will make sure you have a roof you can trust in once again!
Reach Out Today
If you think a roof coating is the solution your roof needs, reach out to us today at (231) 861 – 7221 and get a free estimate for your roof in the Gaylord, MI area. Empire Contractors brings the trusted, quality roofing solutions for all types of commercial roofing systems and it remains our goal to keep yours protected with confidence.