While a flat roof replacement is a large service to have completed on your building, it's one that will be kept simple and hassle free when you hire the roofing professionals at Empire Contractors for the job. We've been bringing building owners, facility managers, and more throughout the Ada, MI area the trusted commercial roofing services they need for more than two decades and we're here to make sure your roof replacement, or any service we complete for that matter, is done perfectly. If you're unsure of the condition of your building's roof, now's a great time to make sure it's ready for the coming season! Call our crew today at (231) 861 – 7221 and we'll be right out to get to work for you.
Know Your Options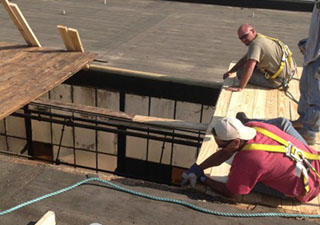 Flat roofs continue to be a common choice for solid protection for all types of commercial and industrial buildings, and your list of flat roofing options is vast when you choose to work with Empire Contractors. We know all our customers have different requirements for their buildings and our knowledgeable roofing technicians will work with you to ensure you get the roof best suited for all your needs. Whether you're looking to go with a trusted single-ply roofing option or another quality roofing solution, we've got you covered as we offer TPO, PVC, Modified Bitumen, Built-up, Metal, and more!
Help It Last
After we have your new roof installed flawlessly, we'll let you know how you can get the most from your roof and help it last as long as possible. One of the simplest ways to help this happen is to have your roof set up on an inspection and maintenance program. We have customizable plans available that will fit your needs perfectly and help you maximize your roof's life.
Reach Out Today
When the need for a new roof can no longer be put off, you can trust the crew at Empire Contractors to flawlessly complete your flat roof replacement in Ada, MI. We've been serving the area for decades and we know what it takes to deliver the finest service in every way. Keep your roof in good hands and reach out to us today at (231) 861 – 7221.