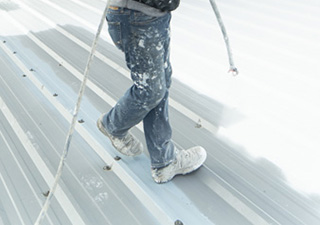 One of the best ways to restore an aging commercial roof is to apply a roof coating on its surface. Although roof coatings are not that common in Albion, MI as of now, commercial building owners are beginning to see their potential. As the leading commercial roofing contractors in Michigan, Empire Contractors always recommend roof coatings to their commercial clients due to the ample benefits they carry. Whether you have a metal roof, TPO, PVC, or EPDM, the roofing specialists at Empire Contractors have the required expertise to apply a clean, tidy, and premium roof coating to your roof. Reach out to us today at (231) 861 – 7221 and schedule a roof coating project from our skilled crew!
Why Should You opt for Roof Coating?
A roof coating comes packed with plenty of benefits. It essentially adds a number of extra layers to the surface of your roof, thereby, enhancing the protection it offers to your business premises against all sorts of weather hazards. Furthermore, due to the roof coatings being generally reflective and transmissive in nature, they serve to greatly reduce your energy bills. On top of that, with a roof coating installed on your roof, you will be able to get a minimum of 10 extra years of optimal performance from your commercial roof. Feel free to give us a call to learn more!
Your Roofing Experts
With more than 20 years of experience backing them, the roofing technicians at Empire Contractors are your best bet when it comes to getting a roof coating installed on your commercial roof in Albion, MI. Apart from offering unparalleled workmanship, we make use of only the finest roofing products in the market. For that very reason, we have collaborations with renowned roofing brands like Mule-Hide, Conklin, and Firestone.
Call Us Today!
A commercial roof is a heavy investment on your part. Ergo, you should do everything in your power to add to its longevity; getting a roof coating applied to it is one of the most reliable ways you can do that. For all your commercial roofing needs in Albion, MI, you need a trusted roofing contractor. Give Empire Contractors a chance by reaching out to us at (231) 861 – 7221 and we assure you that you won't regret it!