A flat commercial roof is a hefty investment on your part and one that is intended to serve you for many decades to come. However, if it's not properly installed or maintained, its life can get significantly reduced and before you know it, you may have to replace it. A flat roof replacement is a major project that takes a good deal of both your time and money, and can greatly disturb the activity going inside your business premises. However, if your commercial building is located in Albion, MI, you can count on Empire Contractors to conduct a hassle-free roof replacement, covering all its essential aspects. Reach out to us at (231) 578-4760 and schedule a roof inspection today!
Roof Restoration or Replacement?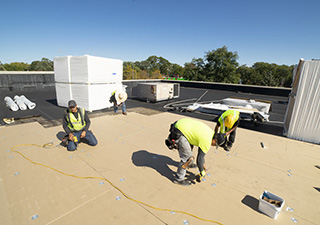 As a commercial building owner, you must realize that not all roofing problems need to be tackled by a roof replacement. If your roof is in a reasonable condition, a skillfully conducted roof restoration can help you get a few extra years or even decades, depending upon the roof's condition, out of your roof. To figure out what exactly does your roof need, our experienced crew of roofers will carry out an all-encompassing evaluation. Note that if their findings show that a roof replacement is the best solution, they won't shy away from it nor will they outsource the job. They will come up with a no-obligation, free-of-cost roof replacement estimate, taking into account your budget and your specific needs.
Custom-tailored Solutions!
Every commercial roof has its own specific needs. Ergo, all our roofing services, including roof replacements are designed according to the particular requirements of your roof. We've been serving the valued clients of Albion, MI, with our customer-tailored solutions for over 20 years and thanks to their encouraging responses, we proudly claim that today, we are one of the leading construction companies in the state of Michigan.
Call Us Today!
Although flat roof replacements seem like a hefty task, with the seasoned roofers of Empire Contractors at your service, you've got nothing to worry about. Give them a ring at (231) 578-4760 and let them use their matchless expertise to replace your aging roof with a brand-new, long-lasting one in Albion, MI.