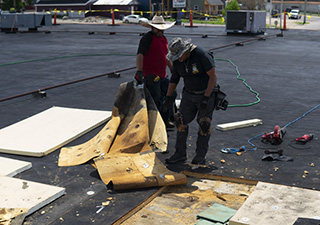 A flat roof is one of the most common types of roof that commercial building owners in Albion, MI go for. Just as in the case of any commercial roof type, your flat roof is prone to damage over time, and the more seriously you react to that damage will determine how costly, durable, and effective the repairs to be applied will be. If you happen to own a commercial building in Albion, MI whose roof needs some top-quality repairs, worry not, because the professional roofing specialists at Empire Contractors have got you covered. We are an all-service roofing company that can tend to every single problem concerning your flat roof, regardless of how big or small that may be. So, feel free to give us a ring at (231) 861 – 7221.
A Complete Service
The reputable roofers at Empire Contractors don't believe in carrying out quick, and half-hearted jobs. Instead, they always start by running a thorough diagnosis of your roof to sniff out the actual issues that are keeping your roof from performing at its optimal condition. In accordance with their findings, they provide you with a free estimate. Once you give them a go-ahead, they make sure that a comprehensive and tidy job is done. They keep you in the loop throughout your flat roofing project to make sure that everything goes according to your wishes, addressing any questions that you may have during the process. Contact us for more details.
Why Choose Empire Contractors?
In the highly competitive construction industry of Albion, MI, it takes years of hard work and commitment to gain the trust of customers. Empire Contractors has built its reputation by offering nothing short of exceptional roofing services for more than 20 years. Thanks to their wide expertise, we are proud to claim that our roofing technicians can handle any sort of roof repairs that you may require.
Call Us Today!
Your flat commercial roof was built to last for many decades. However, for that to happen, you must make sure that you tend to its needs and that means getting timely repairs for the damages it undergoes at different points of its life. For all your flat commercial roof repairs in Albion, MI, you can count on Empire Contractors to deliver flawless service. Reach out to us today at (231) 861 – 7221.