Getting a flat roof exactly what it needs in a timely manner is the best way to save money on roofing services. In order to do this, you should be setting up roof inspections from a dependable company. If your building in Portage, MI needs a flat roof repair, please get in touch with the team at Empire Contractors today at (231) 861-7221.
Roof Leak Detection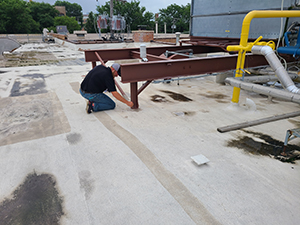 Locating roof leaks on a flat roof is something that takes a lot of experience. Flat roofs can have a hole in one part of a roof that causes a leak in a very different part of the ceiling, as water can travel once it penetrates a roof. For first-rate roof leak detection services, the people of Michigan can rely on the experienced craftsmen at Empire Contractors!
Roof Coatings
Many flat roofs benefit when they are restored by a roof coating. If your flat roof needs a repair, it might be better off with a new roof coating so that future roof leaks are prevented altogether. With Empire Contractors working on your side, your flat roof will be restored exactly when it needs to be. Our roof coatings will not only improve the condition of your roof but also the energy-efficiency of your commercial building!
Experienced Craftsmen

The skilled roofing specialists at Empire Contractors have spent years honing their craft. Our team is one of the top in the state. When you need roofing specialists for a project, just get in touch with us today and we will have our experienced roofers over to inspect your building's flat roof.
Timely Roofing Services
When a roof is leaking, a repair can't come soon enough. After all, the longer it is left without being repaired, the more that damage can spread. For dependable and timely roofing services, the people of Michigan can always rely on the experts at Empire Contractors!
Call Us Today!
If your building needs a flat roof repair, Empire Contractors will have the job completed quickly and correctly! We provide cost-effective roofing solutions for those in Portage, MI. To learn some more about our company, please get in touch with us today at 231) 861-7221.